Played phone tag with
Reveune Guard
. You gotta love that there is a company out there specifically designed to get money for the ambulance companies. Clearly this came out of the fact that nobody wants to pay the ridiculous bills they send out so instead of wasting resources trying to get paid, they chose to contract a company that will spend their waking days doing billing with the potential to ruin everyone's credit. Yeah, this is a going to be a fun battle. I doubt I will win, but I personally think this practice sucks and every time I hear the first aid horn now I think, "Oh, there goes another $1000.00+ customer." Friggin' sad.
Again, I understand these services are not cheap and I appreciate First Aid Squads, but either find someone to negotiate a much better contracted rate with insurance companies, or hold more fund raisers. I say this because going after folks for money after they have been through some sort of trauma is probably not the best way to do business let alone endear yourself to your community even though we need each other.
Okay. Moving on.
Made
these
fabulous from scratch pancakes. Let me warn you though the batter will rise VERY high in the bowl and so will the actual pancake in the pan, but they are delicious. I added chia seeds and chocolate chips.
After my car gets brought in for it's oil change and car wash, woo hooo!, we will need to get some yard work done today. I also need to go to the bra lady and get measured for new bras. This is an expensive endeavor thanks to being well endowed, but I will not wear crappy bras that fall apart and I need proper support. I also really need a new pair of sneakers. I hate buying sneakers, but that is why places like Marshall's exists so I don't have to pay $85.00 for them.
We no longer have any outdoor furniture. Sets we were given have been used and loved and broken and moved to the trash. I have been scouring Craigslist which I never have success on. I am jealous of people who go on and can furnish a whole house in one sitting. We do have a few various town wide garage sales kicking in so I may need to check them out. We really do like
this
particular one by Crosley and it is sold in a few places, but it is $279.00. We both really dig the retro vibe of it and the sky blue color. We figured it is a set that could stay with us for some time because it is made of steel.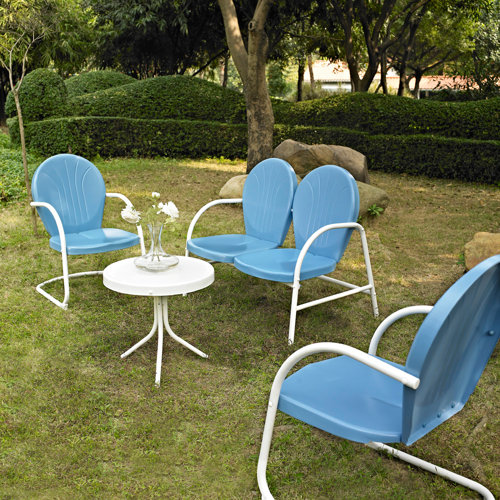 For now I am not sure what we will do because I do love sitting outside. We could get cheap folding chairs or something, but why buy something cheap and poorly made? Ahh the conundrums of life.
Hope you are out enjoying the weekend. We have some very warm weather coming this week, PRAISE THE SWEET TOOTHED JESUS, and I am so looking forward to watching everything bloom and planting veggies and sowing some seeds. Have a good one.
Cheers!
MissFifi