In my mind I am a brilliant DIY-er. In the real world, not so much. I can knit, I can somewhat sew but if you asked me to build a table I don't think I would be doing that with much grace. What I
am
really very good at is finding projects for my husband who aspires to build furniture one day and feed that desire as much as I can. Not always a solid plan, but trust me, the man has come a long way since we bought our home. Whenever I come across something I think he can handle I email it to him and suggest he file it away. I will definitely post pictures of the projects he has undertaken so far. This is all due to my hunting and gathering of things that I myself could probably make, but prefer to delegate to the man who is eager to improve his building skills.
Now, I do love a good DIY blog and there seems to be quite a healthy amount out there if one is in need.
ViewAlongTheWay
came to my attention and at first glance I was like, "Ugh, another person with serious skills who can take a glue gun and a piece of ribbon and somehow create slip covers for five chairs. I do not need to feel inadequate by some living room
MacGyver
so no thanks." Then I began to browse. I have to say, there are some really well done projects here and I applaud the gumption this couple has. One of the rooms I really liked was her laundry room redo and if I had a laundry room there is no doubt I would be in there all inspired, ripping stuff down, painting and whatnot. I can't say I would have had the patience this woman had when stenciling her laundry room wall, but she did a stunning job. And her husband made the pendant light. MADE IT. Rock on.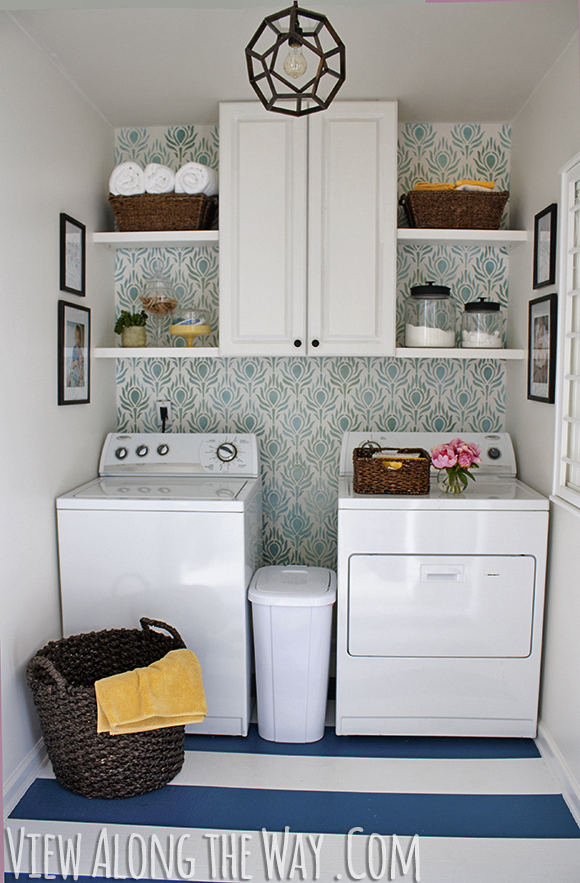 For the whole DIY process and cost break down, read
here
.
How do you not love folks who shop the outlets and sale sections of design stores to get the high end stuff for 90% off?? That is totally talking my language when it comes to deals.
I cannot guarantee I will be wielding a saw anytime soon. Does one wield such a thing? Perhaps a hammer is more appropriate, but I will always be on the lookout for affordable ideas to implement in my own home. Besides, my hubby needs an extra exciting project or two. ;-)
Cheers!
MissFifi